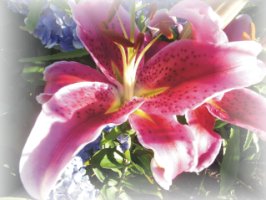 Behind every succcessful product and company are the people who truly make it happen; individuals , who turn their passion and years of knowledge into a tangible reality.
Who Makes This Magic
Dr. Uwe Kreis, director of research & development, and partner Lynn Robinson, international NLP Trainder and master hypnotherapist, have accomplished just this. Their rare combination of science and psychology is what makes AromaSignatures special.
Dr. Uwe Kreis, with a Ph.D in chemistry and over 20 years of research working with essential oils, heads up this unique team of talent, which has created a collection for all life style needs; including scents for home and office, personal care for women, pregnancy line, health and fitness products, spa and skin care line. Other unique products include performance enhancing essential oil blends combined with audio CD's for executives, golfers, traveller's and more.
AromaSignatures is the product division of The Robinson Group Training and Consulting Corp. and we incorporate aromatherapy blends into all our trainings and use it with our clients to facilitate learning, increase retention and improve performance.
AromaSignatures goes beyond aromatherapy to the true essence of well-being.
Copyright (c) 1998, 2003 AromaSignatures & Dr. Uwe Kreis